Concerts, conférences, stages
24 et 25 octobre 2020
Festival Dutilleux
24 octobre– 15h Auditorium de Huismes
Direction Alessio La Luce – Restitution et création commande pédagogique de Vincent Laubeuf Ressacs pour piano, flûte, saxophone et électronique
25 octobre – 11h Caves Painctes, Chinon
Concert Brunch électroacoustique « les modèles naturels » OEuvres de François Bayle, Vincent Laubeuf, François Bernard Mâche, Livia Giovaninetti, Jonathan Prager
More information…
4 et 5 novembre 2020
Césaré et Conservatoire de Reims
4 novembre – 20h
concert portrait (programmation en cour)
5 novembre – 20h
Sons d'ailleurs, spectacle transdisciplinaire conception Vincent Laubeuf : conception, vidéo et électroacoustique ; Élise Caron : récitante. Musiques de Éric Broitmann, Denis Dufour, Vincent Laubeuf, Philippe Le Goff et Émilie Mousset, ainsi que des enregistrements de musiques des Peuls Wadaabe, du kattajaq Inuits, du gagaku Japonais etc. Guillaume Contré : livret
Avec des textes d'après Amadou Hampaté Bâ, Henri Michaux, Jaime de Angulo, Abraham Ulrikao.
More informations...
13 décembre 2020
Concert Alcôme,
Chemins de traverse pour support audio et acousmonium 3 interprètes, commande d'Alcôme avec le soutien de la Sacem- Mise en oeuvre ProArti
Saint-Leu-La-Forêt

16 mars 2020
Concert de l'Ensemble Court-Circuit
Shakyo pour ensemble et électronique (Aide à l'écriture d'œuvre musicale originale du Ministère de la Culture)
15 avril 2021
ONCEIM and Motus
L'appel de l'Océan, création pour orchestre et acousmonium
Théâtre de Vanves
Plus d'info…
---
New CD …on ne sait pas
This diptych is composed of
« Dans le silence on ne sait pas » and « Dans le bruit on ne sait pas »
+ an interlude "5 miniatures"
The complete work was premiered at the CCMC festival at the Institut Français de Tokyo on March 5, 2016
an ArtSonique / Motus co-production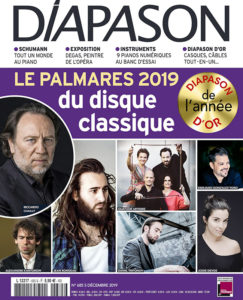 Review of this CD in Le Diapason of December 2019
 "Listening to this programme, we would be tempted to associate Vincent Laubeuf with the 'instrumental' side of acousmatic music. Opening Dans le silence on ne sait pas (2015) with a sample from Haydn's The Creation, the composer anchors the piece in acoustic sound, while applying numerous anamorphic transformations to it, with a strong presence of electronics.
The magma of Haydn's "chaos" and then a naturalistic atmosphere will be followed by a much more stormy section, triggered by Haydn's initial chord (and timpani roll), whose quotation had been amputated. A passage rhythmed by samples of snare drum and other percussive instruments, a possible allusion to techno music, then gradually dissolves into an anxiety-filled atmosphere of solar winds and high-voltage line crackles. In the noise one does not know offers a very close material, treated however in a very different way, in particular by the intensive use of its looping. A cyclic melodic pattern subject to phase shift and Doppler effect, harmonic layers from Haydn, an electronic flicker tending towards electrical interference, a short, strongly reverberated and lateralized trumpet call, or the integration of field recording: the means are as simple as their combination is sophisticated. A beautiful poetic and dramaturgical space, which would certainly not have the same depth if it were not prepared by the first part of this diptych. "Pierre Rigaudière 685 p 93
---
In the process of writing Shakyo for instrumental ensemble for the Ensemble Court-Circuit (premiere in 2020) commission from the French Ministry of Culture.