NEXT EVENTS
concerts, conférences, stages
December 5, 2019
Vincent Laubeuf will be invited as a guest speaker in the Sound Synthesis class at the Tokyo University of the Arts
12月5日(木)三限(13時-)の藝大サウンドシンセシス@上野音響研スタジオは、作曲家の Vincent Laubeuf さんがゲストです。ヴァンサンさん、貴重な来日中にありがとうございます。よろしくお願いします。
例によってこの授業、基本的には学内者のみ聴講可なのですが、我は聞きたし!という方は私に直接お申し出ください。
December 7 and 8, 2019
Electronic and Acousmatic Paris-Tokyo Sounds
Le 7 décembre
Improvised music concert with 有馬 純寿 Sumihisa Arima、佐藤 亜矢子 Ayako Sato、北條 知子 Tomoko Hojo
Le 8 décembre
Workshop and acousmatic music concert, carte blanche
music by Eric Broitmann, Bruno Capelle, 梅沢 英樹 Hideki Umezawa, 佐藤 亜矢子 Ayako Sato, 渡辺 愛 Aï Watanabe and Vincent Laubeuf
Place : elephant STUDIO(〒150-0002 東京都渋谷区渋谷2-7-4)Tokyo
http://elephant.tokyo/
More informations...
May 6, 2020
ONCEIM and Motus
Creation for orchestra and acousmonium
Festival Switch 4 / Théâtre de Vanves, France
---
New CD …on ne sait pas
This diptych is composed of
« Dans le silence on ne sait pas » and « Dans le bruit on ne sait pas »
+ an interlude "5 miniatures"
The complete work was premiered at the CCMC festival at the Institut Français de Tokyo on March 5, 2016
an ArtSonique / Motus co-production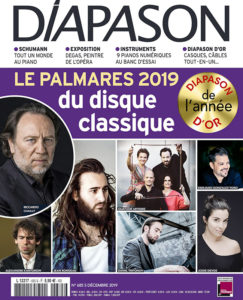 Review of this CD in Le Diapason of December 2019
 "Listening to this programme, we would be tempted to associate Vincent Laubeuf with the 'instrumental' side of acousmatic music. Opening Dans le silence on ne sait pas (2015) with a sample from Haydn's The Creation, the composer anchors the piece in acoustic sound, while applying numerous anamorphic transformations to it, with a strong presence of electronics.
The magma of Haydn's "chaos" and then a naturalistic atmosphere will be followed by a much more stormy section, triggered by Haydn's initial chord (and timpani roll), whose quotation had been amputated. A passage rhythmed by samples of snare drum and other percussive instruments, a possible allusion to techno music, then gradually dissolves into an anxiety-filled atmosphere of solar winds and high-voltage line crackles. In the noise one does not know offers a very close material, treated however in a very different way, in particular by the intensive use of its looping. A cyclic melodic pattern subject to phase shift and Doppler effect, harmonic layers from Haydn, an electronic flicker tending towards electrical interference, a short, strongly reverberated and lateralized trumpet call, or the integration of field recording: the means are as simple as their combination is sophisticated. A beautiful poetic and dramaturgical space, which would certainly not have the same depth if it were not prepared by the first part of this diptych. "Pierre Rigaudière 685 p 93
---
In the process of writing Shakyo for instrumental ensemble for the Ensemble Court-Circuit (premiere in 2020) commission from the French Ministry of Culture.